Transition to renewable energy means demand for new skills
OX2 Poland, together with Windhunter Academy, has implemented a training program for former miners to meet the increased need for labor in the wind energy sector. This is a training project aimed at miners who are leaving the mining industry. It gives them a real opportunity to retrain and find a new place of employment.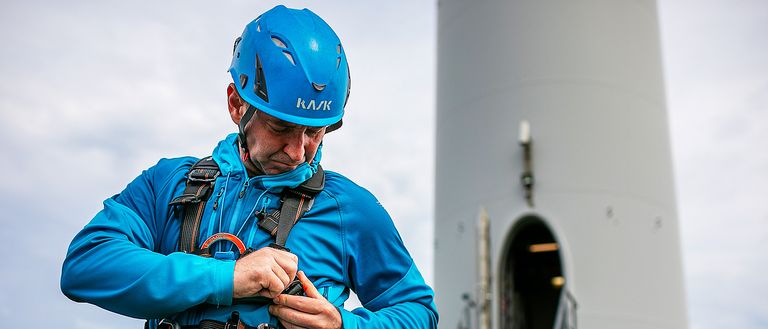 Interview with Tomasz Guzowski, Head of Development and Acquisitions Wind, Poland:
Together with the Windhunter Academy, you have prepared a training project aimed at miners who are leaving the mining industry. What does this project involve?
"The energy transition to renewable energy sources means more than just a technological and financial change. It also involves a change in the labor market. So, in collaboration with OX2's partner, we took up the challenge and together created a training initiative aimed at those mining sector employees who are interested in leaving the industry and continuing their career in the wind energy sector.
OX2 is carrying out the program in cooperation with Spółka Restrukturyzacji Kopalń S.A. The training provides instruction on working at heights, fire safety, manual labor and working at sea. The course curriculum reflects international standards and the miners receive internationally recognized Global Wind Organization certification."
Why did you undertake such a groundbreaking project?
"We launched the initiative because we want to actively participate in the energy transition. We also want to show that experienced workers who are leaving mining jobs can play a significant role in the development of the wind energy sector. We are proving that energy transition in Poland is possible and that this is what will enable a transition of workers from the so-called conventional energy sector to green energy."
What is your assessment of these activities and their results after the first group of participants completed training?
"It was a unique adventure for us and for our colleagues from the Windhunter Academy, but most of all for the participants – the miners who joined the program. A course graduate receives a certificate authorizing them to work on the construction and maintenance of onshore and offshore wind turbines and this is valid not just in Poland but across the entire world. We are currently awaiting the second training stage for a new group of miners. The program was well received and met with huge interest.
The training gives mining sector employees a genuine opportunity to find a job at companies that work with the technical maintenance of wind turbines. We are seeing significant demand for this kind of employee in the wind energy sector. This group of specialists are finding that wind energy is an attractive alternative to their current career."
How was the project received by the wind energy sector?
"We have already been contacted by some wind farm developers who want to hire the mining sector employees who completed our course for wind turbine maintenance jobs. I see this as a very important sign that our actions not only have a positive social impact, but also a beneficial impact on building energy security and increasing the share of renewable energy in the domestic mix.
The success of the project has been confirmed by the Company of the Year 2022 title being awarded to OX2 Polska for its preparation and implementation; I had the pleasure of accepting the award this year during the Polish Wind Energy Association's 2022 conference. The award is very valuable to me. It is recognition for my work on the project and its implementation. It also confirms that joint action creates a really sustainable future."
Explore more case studies