Energy storage
Energy storage enables the transition to renewable energy production. The technology plays a critical role in modern energy systems by improving grid stability, enhancing the integration of renewable energy sources and providing backup power.
Facts about energy storage
Energy storage is crucial for the continued expansion of solar and wind power. Battery systems, for example, can store excess energy from intermittent sources such as wind and solar and release it when energy production is low, ensuring a constant and reliable energy supply.
By storing excess electricity during periods of low demand and releasing it when demand is high, energy storage helps to stabilize the electricity grid. In this way, the risk of power outages is reduced. In the event of outages, energy storage provides backup power, ensuring critical infrastructure, homes and businesses remain operational.
Energy storage can lower peak costs for commercial and industrial customers by freeing up stored electricity during periods of high demand. In addition, energy storage can balance supply and demand for electricity, postponing the need for expensive infrastructure upgrades in the energy system.
The growing investor interest in renewable energies also applies to battery and other storage technologies. Global energy storage capacity is expected to increase at a compound annual growth rate of 31% through 2030, reaching a total capacity of 741 GWh by 2030.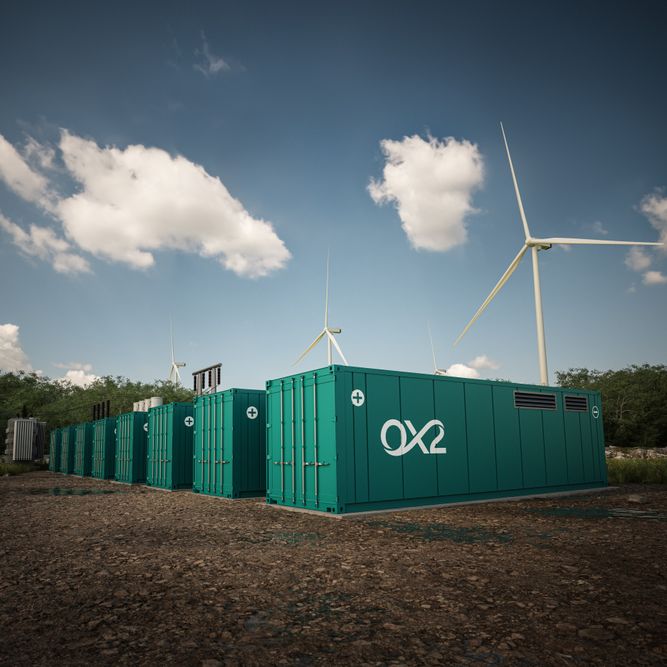 OX2 and energy storage
The energy storage is essential for the further build-out of PV and wind energy. OX2 is assessing the development of storage assets which can be stand-alone as well as systems coupled with PV or wind projects.
OX2's interest in developing storage is backed by a growing pipeline of battery energy storage projects across Europe. The envisioned product will be similar to onshore wind and PV. OX2 is also committed to providing battery storage asset management services to clients and investors.
In 2022, construction started on our first battery energy storage project, Bredhälla in Sweden (43 MW)
Project development portfolio of 929 MW at Q3 2023