Sustainability Governance
The Board of Directors has the ultimate responsibility for ensuring that the company is managed in a sustainable and responsible manner. The Board of Directors has delegated
day-to-day responsibility for sustainability topics to the CEO. Our sustainability work is governed by a number of policies.
The Head of Sustainability coordinates the work, but the day-to-day responsibility for sustainability topics is delegated to functions and projects within the organisation. There is also a Health & Safety and Environemntal Manager and sustainability coordinators in the various markets. Key sustainability topics are integrated in the project management model and relevant sustainability goals are monitored in each project.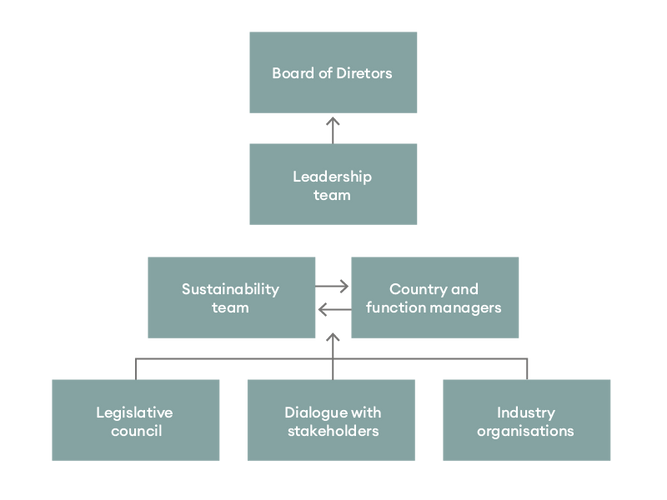 Materiality analysis
During 2022, we carried out a materiality analysis according to GRI 2021. The materiality analysis is a tool for understanding which sustainability topics are most relevant to us and our stakeholders. Sustainability topics are also monitored in part through participation in European and national industry organisations. Our first materiality analysis was carried out in 2018 and most of the topics deemed material at the time are still relevant. This years' materiality analysis concluded that ten sustainability topics were relevant for OX2. We report on these topics according to our Sustainability approach. Read more about each topic below.

Occupational health & safety
OX2 enhances physical and social well-being at the workplace and strives to achieve high attendance levels and low numbers of long-term sick leave.
Community engagement and positive community contributions
OX2 work to ensure community involvement and project adaptation to local conditions. OX2 also work to make a positive contribution to the development of the local area which may include local jobs, business development or financial contributions.
Anti-corruption
OX2 strives towards preventing corruption and maintaining a zero tolerance-policy for bribery, fraud and embezzlement.
Responsible supply chain
OX2 strives to achieve environmental, social and economic sustainability throughout the value chain and for those working at OX2's sites and construction sites. OX2 work systematically to identify and minimize risks of corruption, substandard working conditions, human rights violations, environmental damage or other fraudulent behavior.
Biodiversity
On all project sites, OX2 work to avoid, minimize and restore impacts on the nature in order to create a nature-positive impact. OX2 also strives to increase understanding on the link between renewable energy and biodiversity
Diversity & equality opportunity
OX2 strives towards a workforce reflecting our society, with an inclusive culture that actively promotes equal opportunities and diversity.
Resource use & circularity
OX2 strives towards a higher level of circular use of resources, focusing on blade recycling and solar PV panel recycling. OX2 supports industry organisations and initiatives to achieve a circular economy for all material.
Work-life-balance
OX2 strives towards creating a healthy work-life balance.
GHG emissions
OX2 strives to reduce greenhouse gas emissions from project sites, business travel and office consumption based on heating and electricity. OX2's impact from carbon emissions relates to the company's direct emissions from the offices (scope 1), indirect emissions from purchased energy (Scope 2) and other indirect emissions that occur in OX2's value chain, for example business travels and sourcing (Scope 3).