OX2 CEO Paul Stormoen's address to the AGM 2023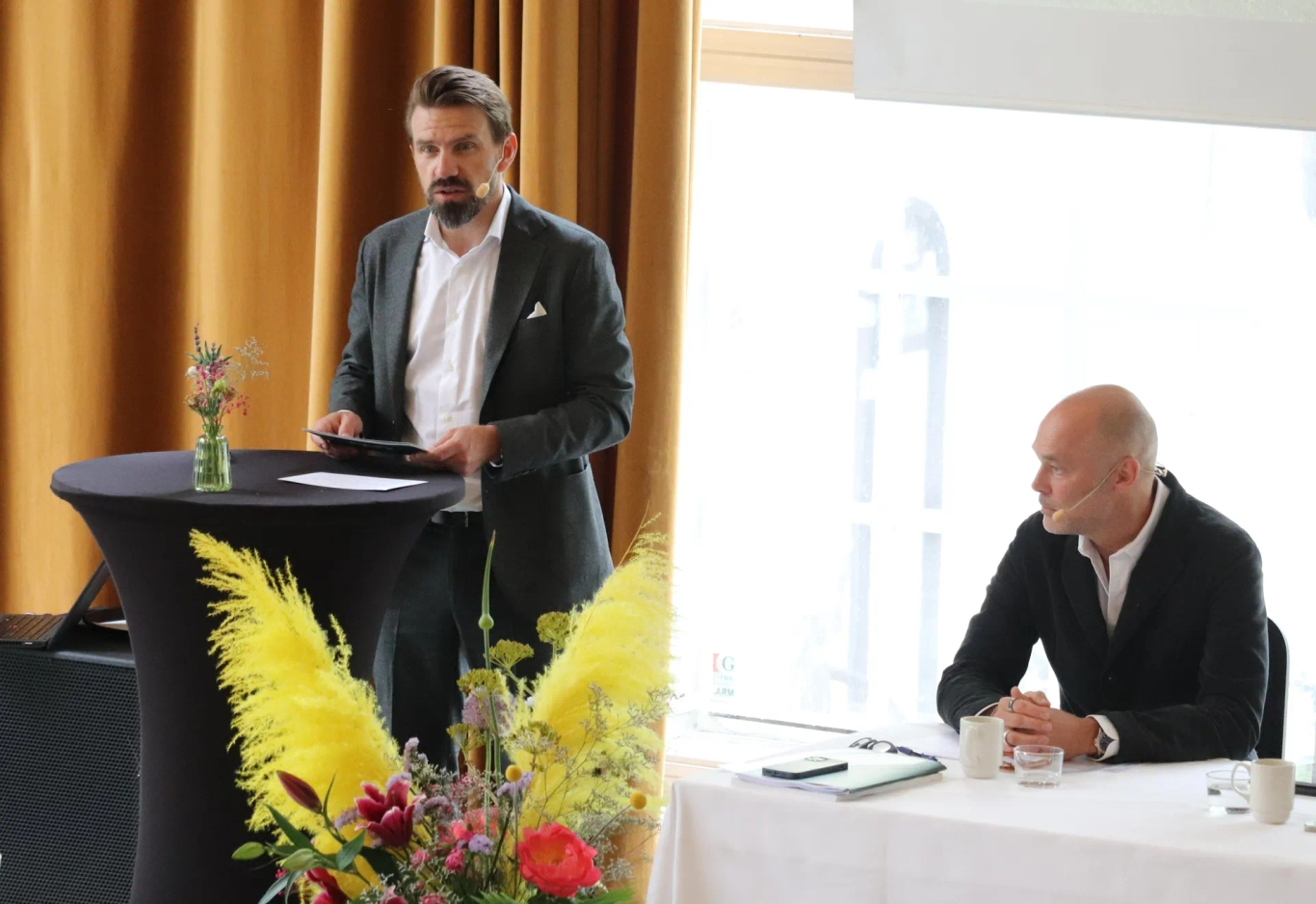 Dear shareholders, members of the board, and colleagues,
It is sometimes said that change happens gradually. And then suddenly.
In 2022, a staggering 85 percent of all new electricity production in the world was renewable, and the International Energy Agency predicts that renewables will be the largest source of electricity production in the world before 2025
Ten years ago, 120,000 electric cars were sold globally. Last year more than 155,000 were sold – every week.
We are still just at the beginning, but there is no doubt that the transition has taken off.
The big shift towards a sustainable future encompasses much more than electricity production. It is about creating a new world, a new economy, new technology and new ways of running old industries. But regardless of whether it is creating plastic from algae, driving electric cars, capturing carbon dioxide from the air, or fossil-free manufacturing of steel and cement, renewable energy is required.
It's a huge shift in society, and OX2 intends to be a leader in this great shift.
OX2 in 2022
I want to tell you a bit about where we are today and what we are doing to continue to be a leader in our industry.
Our strategy is fixed. We will continue to grow our project portfolio and expand into new markets and within new technologies. We did that successfully last year, in 2022, and will continue to do so in 2023.
The portfolio
By the end of the year, the project development portfolio had grown to 28 GW, from 17 GW the year before. It was also a significantly more mixed portfolio than before.
We acquired two wind and solar portfolios of approximately 500 MW in Greece. We developed two large-scale offshore wind projects outside Åland together with Ålandsbanken Fondbolag. We added our first Spanish projects through two acquisitions. And we have added 450 MW of energy storage to the portfolio.
Geographic expansion
Expanding our geographical footprint is part of OX2's strategy and during the year we established ourselves in Greece, Åland and acquired our first projects in Estonia and Spain. We are now present in ten markets in Europe.
We continue in 2023 according to plan and about a month ago we also entered Australia, through the acquisition of a leading developer of renewable energy, ESCO Pacific. Australia is a market with enormous potential, with very high ambitions and a great need for renewable energy.
The markets OX2 have selected all have great potential when the countries have to adjust their energy production. At the same time, we continue to investigate new markets where we can contribute by developing renewable energy production. We expect to present another new market for OX2 in the next 12 months.
Different technologies
OX2 is not only growing geographically but also expanding into different technologies. Last year we sold our first solar project and the portfolio of projects in solar power is three times as large as the year before.
We made our first sale in offshore wind power when we sold 49 percent of our portfolio of three projects in Sweden to Ingka Investments. We also added the two large offshore projects outside Åland to the portfolio.
We began construction of our first energy storage project, in Uppvidinge in Sweden. Energy storage is an area where we see great potential. We believe that the majority of our new projects going forward will be combined with storage capacity, but storage projects are also profitable stand-alone.
During the year, OX2 investigated the possibilities for a number of hydrogen projects, including expansion of hydrogen production in connection with offshore wind power. Hydrogen is an excellent energy carrier for sectors that are difficult to electrify, such as industry, shipping or aviation, and the market is expected to experience very strong growth during the late 2020s.
OX2's results
OX2's expansion has always occurred with stable profitability. Last year we sold three wind farms in Sweden, one wind farm in Finland, one wind and one solar farm in Poland, in addition to 49% of the portfolio of three offshore projects in Sweden. The construction business also showed good profitability and the asset management organization is growing profitably.
This meant that at the end of the year we were able to report an operating profit that almost doubled compared to the previous year. We have begun to seriously realize some of the value we have built up in our portfolio. It creates a financial strength and stability to continue our growth journey.
Driving forces
In all major social changes, there are many driving forces that work together. However, what has really accelerated the big shift is that renewable energy has become profitable, without subsidies. This has led to strong demand from pension funds, venture capital and industrial investors looking for long-term investments with good returns.
In addition to countries setting emission targets, companies have also set tough targets for their own operations. For example, IKEA must become climate-positive by 2030, meaning that their impact on the climate must be positive by then. Financial actors have also begun to evaluate borrowers and possible investments based on how they perform in terms of environmental and social work.
OX2's sustainability work
We say that we will be a leading player. It's a goal we don't just measure in money or megawatts. We have a zero vision for workplace accidents where we collaborate with suppliers and partners to reduce the number of accidents and incidents.
We have also set the goal of creating nature-positive solar and wind farms. Renewable energy has a better chance than any other type of power to succeed in this. We investigate everything from fish hotels in the foundations of offshore turbines, to planting meadow flowers for bees and butterflies at solar parks or oxygenating the seabed in connection with hydrogen production.
The energy system of the future
Soon enough we will be able to create energy systems that are one hundred percent renewable. We are in an incredibly innovative period when it comes to energy storage. We see everything from batteries made of cellulose, iron, and seaweed, to initiatives where energy is stored in salt or decommissioned mines.
But energy storage is only one part. Our way of using energy will change, as will the emergence of new areas of use and business models around energy.
The future will accommodate many solutions and be more diversified. We don't know exactly what the future will look like, but that has never stopped us before.
We've done it before
At the end of the 19th century, electric light and electric machines was the next big thing. It could illuminate homes and cities, facilitate heavy work, and increase productivity. But there was no solution for how the electricity would be distributed from power plants to consumers. So, Jonas Wennström invented the three-phase technology and a couple of years later managed to transport electricity from a power plant to a facility over a mile away.
It's the same thing today; we must be brave enough to trust our ability to solve problems and make new discoveries. It will create new opportunities, new industries, jobs, create competitiveness and build welfare.
The industry sees this and has long argued for a rapid expansion of renewables. Politicians see it too, and in the past year several initiatives have been taken to create clear and long-term rules for the expansion of the electric power system.
Thanks to everyone at OX2
I am incredibly proud of all the work being done at OX2. It's everything from holding municipal consultations to procuring suppliers and turbines, signing agreements with investors, carrying out bird inventories, or developing our enabling functions. All of this has contributed to our continued profitable growth.
Ahead of next year, we will continue growing our geographic presence. We will develop more projects in various technologies and work to ensure that our projects become nature positive.
Change always comes suddenly, but we are well prepared. OX2 already saw where we were going almost twenty years ago. We look forward to continuing to be a forceful leading actor in the great shift towards a sustainable future.